About Me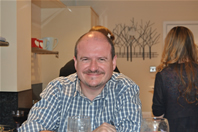 I am a Bury lad with several years of DJ experience, I started off many years ago helping out with PTA School Discos for my Children's School. I went on to do family parties and events in the local area and progressed to a more professional service to include photos and slideshow, lighting and Karaoke. I understand some DJs prefer to play music they personally like, I am different as I cater for all tastes by consulting with each client to ensure I include music to their taste in advance of the event. I am able to cater for many genres, including Disco, Charts, 1970s, 1980s, Classic Rock etc. I have a collection of about 3500 tracks and can deal with most music requests instantly.
I also have Karaoke equipment and a range of about 2500 songs.
My rates are very reasonable and I can cater for most events, however small, I will even provide quieter background music for your event if required.
I am based in Bury, Lancashire but am able to travel within a reasonable area, a small charge may be made for out of area requests.
____________________________________________________________________
Recent Venues
All venues I work at are happy with my services, some of my most recent venues are listed below:-
DJ at The Bolholt Country Park Hotel, Bury
DJ at The Red Hall Hotel, Ramsbottom
DJ at The FIshermans Retreat, Bury
DJ at Ramsbottom Cricket Club
DJ at Ramsbottom Civic Hall
DJ and Karaoke at The Swan and Cemetery Pub and Restaurant, Bury
DJ and Karaoke at The Harrows Rochdale
DJ at the Moorside Cricket Club, Oldham
DJ at the Hopwood Unionist Club, Heywood
DJ at St Peters Parish Hall, Hazel Grove, Stockport
DJ at Play Football, Bury
DJ at the Duck Club, Bury
DJ at Elton Liberal Club, Bury
DJ at Unsworth Cricket Club, Bury
DJ and Karaoke at the Game Cock, Bury
DJ at Lowes Park Golf Club, Bury
DJ at Swinton Park Golf Club, Swinton
DJ at Elton Sailing Club, Bury
DJ at Greenmount Cricket Club, Bury
DJ at Royton Band Club, Royton Oldham
DJ at Edgeworth Cricket Club
DJ at Timperley Sports Club, Altrincham
DJ at Wigan Cricket Club
DJ at Holcombe Brook Sports Club / Holcombe Brook Tennis Club
DJ at the Salisbury Club Bury
DJ at the Buchanan Club Bury
DJ at the Albany Hotel Heywood
DJ at the Last Drop Bolton
these are just a selection of my latest venues, if you would like me to be DJ at your event, please ask

DJ-K ~ A Huge Range of Music to suit all Ages and Tastes